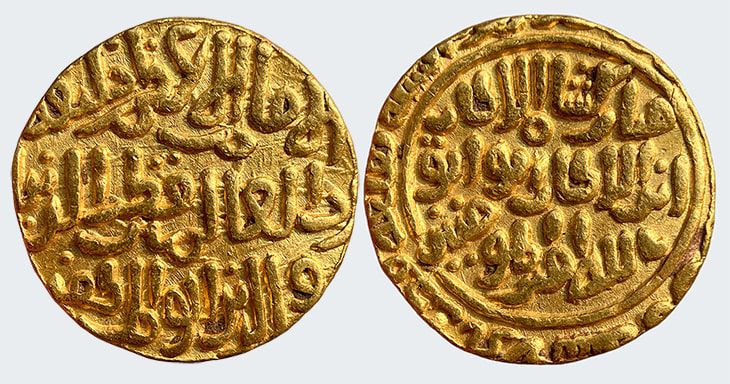 LOT # 3

Estimate 130000 - 150000

Delhi Sultan
Qutb al-din Mubarak
Qila Qutbabad Mint
Gold Tanka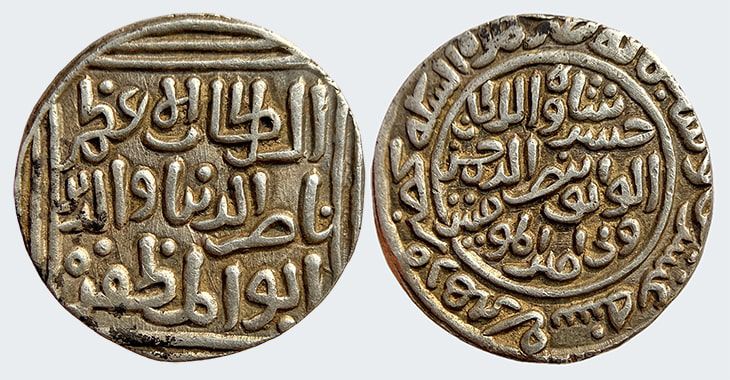 LOT # 4

Estimate 180000 - 200000

Delhi Sultan
Nasir Al-Din Khusru Shah
Hadrat Delhi Mint
Silver Tanka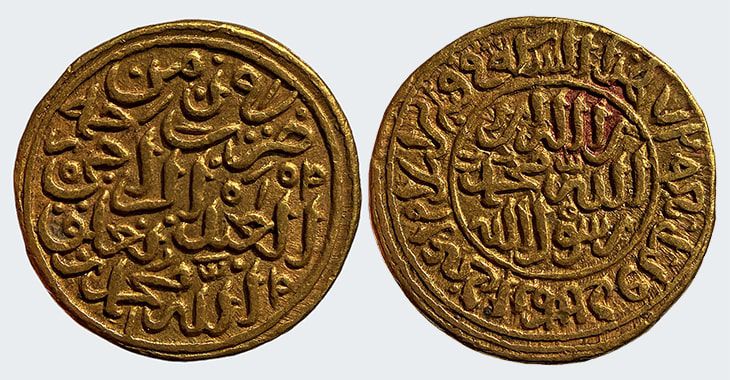 LOT # 6

Estimate 150000 - 200000

Delhi Sultan
Muhammad Bin Tughluq
Daulatabad Mint
Gold Dinar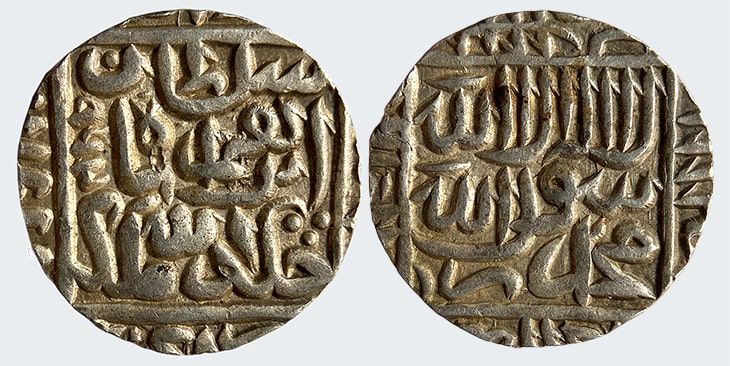 LOT # 12

Estimate 400000 - 500000

Delhi Sultan
Ibrahim Shah Suri
Agra Mint
Silver Rupee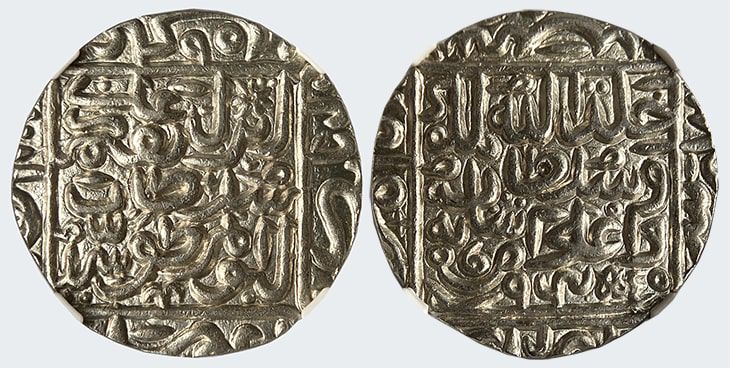 LOT # 13

Estimate 300000 - 400000

Delhi Sultan
Ibrahim Shah Suri
Shahr Banaras Mint
Silver Rupee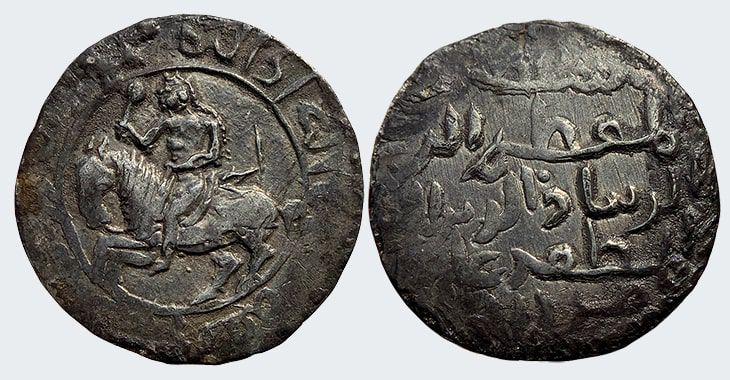 LOT # 14

Estimate 75000 - 100000

Bengal Sultan
Rukn al-din Ali Mardan
Horseman type
Silver Tanka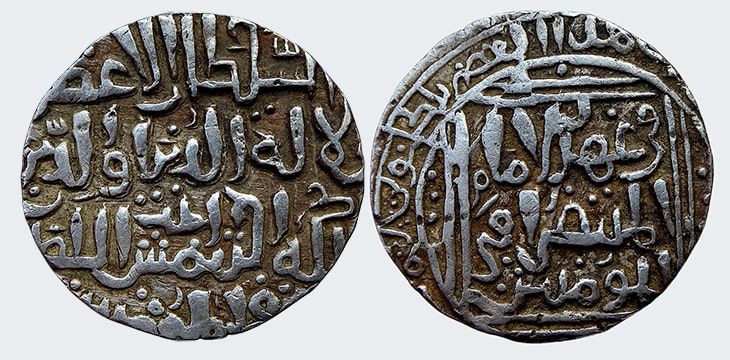 LOT # 26

Estimate 75000 - 80000

Bengal Sultan
Razia Sultana
Lakhnauti Mint
Silver Tanka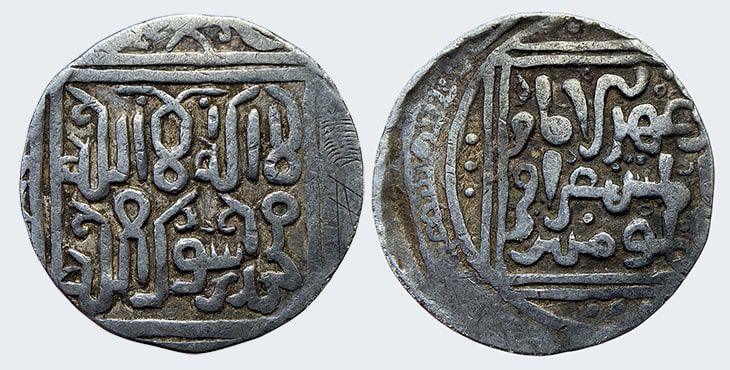 LOT # 27

Estimate 15000 - 20000

Bengal Sultan
Tamar Khan Qiran Governor
Lakhnauti Mint
Silver Tanka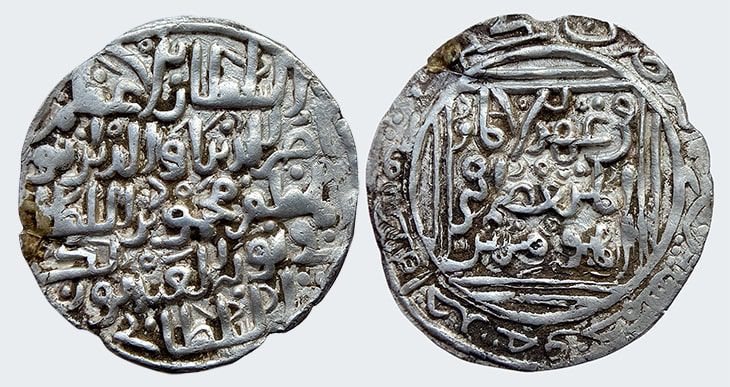 LOT # 28

Estimate 250000 - 300000

Bengal Sultan
Joint issue
Mughith al-din Yuzbak &
Nasir al-din Mahmud
Lakhnauti Mint
Silver Tanka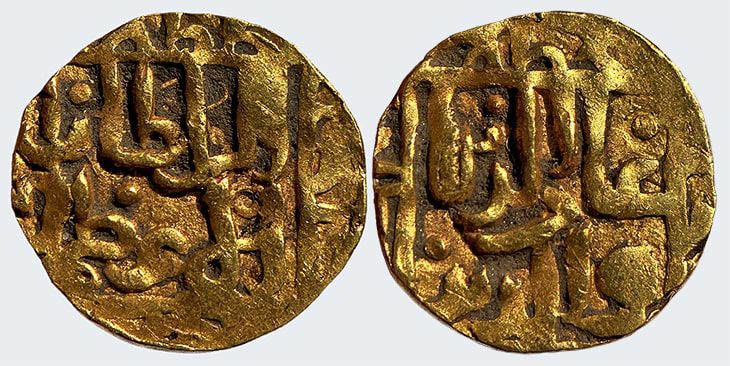 LOT # 30

Estimate 300000 - 400000

Bengal Sultan
Ghiyath Al-Din Balban
Bengal Issue
Gold Fractional 1/6 Tanka
exceedingly rare Unique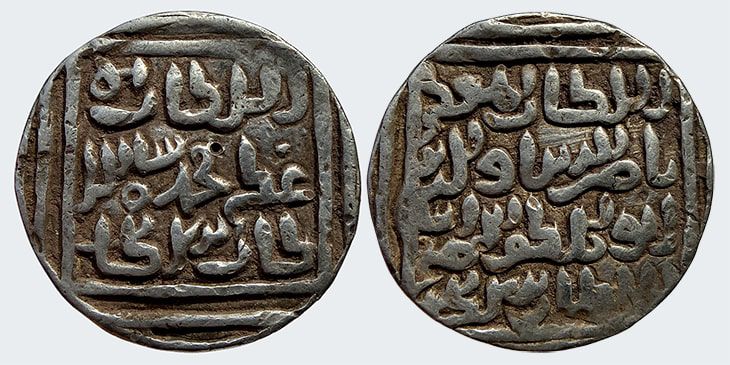 LOT # 47

Estimate 200000 - 250000

Bengal Sultan
Joint Issue
Nasir al-Din Ibrahim Shah &
Muhammad bin Tughluq
Sultan of Delhi
Silver Tanka
LOT # 48

Estimate 120000 - 160000

Bengal Sultan
Joint Issue
Ghiyath al-din Bahadur &
Muhammad bin Tughlaq
Sultan of Delhi
Silver Tanka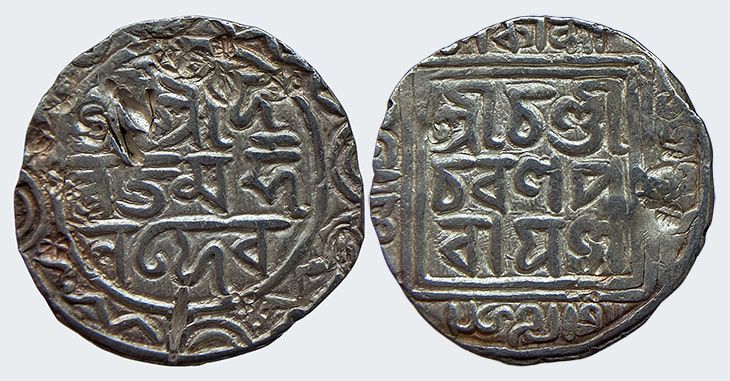 LOT # 112

Estimate 150000 - 180000

Bengal Sultan
Danujamarddan Deva
Hindu ruler
Chatigrama (Chatgaon) Mint
Silver Tanka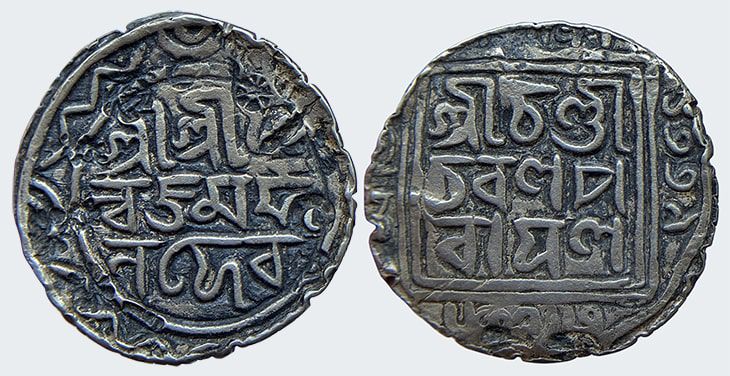 LOT # 113

Estimate 150000 - 180000

Bengal Sultan
Danujamarddan Deva
Hindu ruler
Chatigrama (Chatgaon) Mint
Silver Tanka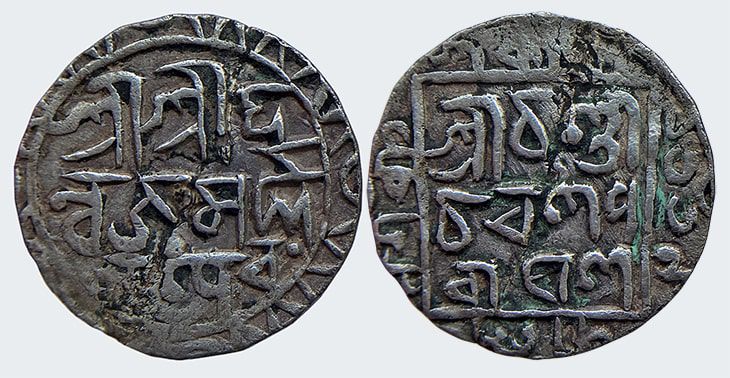 LOT # 114

Estimate 100000 - 125000

Bengal Sultan
Danujamarddan Deva
Hindu ruler
Pandunagar (Pandua) Mint
Silver Tanka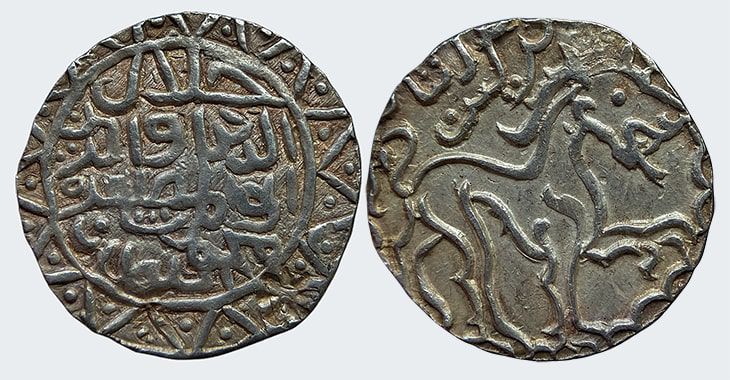 LOT # 123

Estimate 375000 - 500000

Bengal Sultan
Jalal Al-Din Muhammad Shah
2nd Reign
Struck INO Ganesha
his father
Lion Type Silver Tanka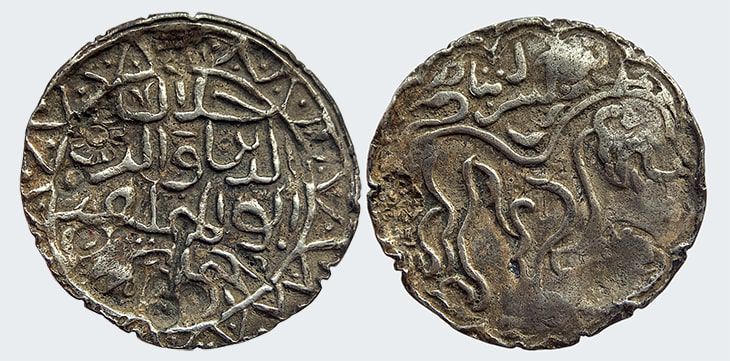 LOT # 124

Estimate 50000 - 180000

Bengal Sultan
Jalal Al-Din Muhammad Shah
2nd Reign
Struck INO Ganesha
his father
Lion Type Silver Tanka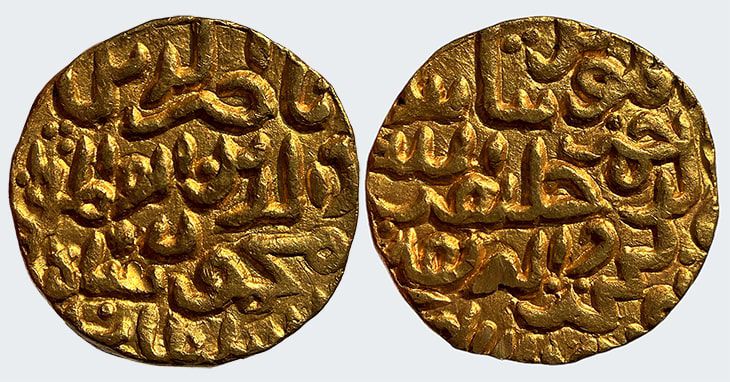 LOT # 145

Estimate 150000 - 200000

Bengal Sultan
Nasir Al-Din Mahmud Shah
NM
Gold Tanka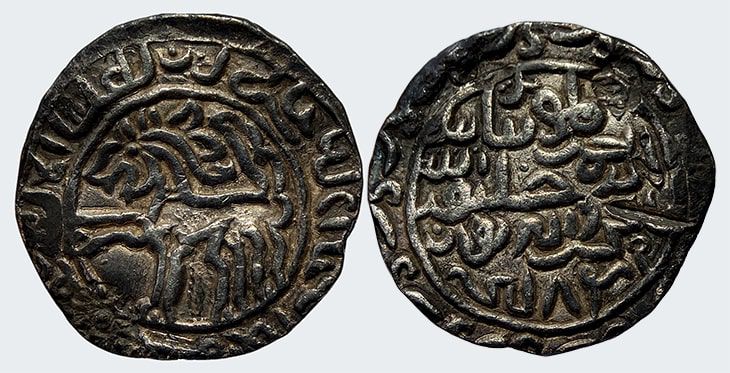 LOT # 182

Estimate 350000 - 400000

Bengal Sultan
Nasir Al-Din Mahmud Shah
Unread Mint
Lion to left
Silver Tanka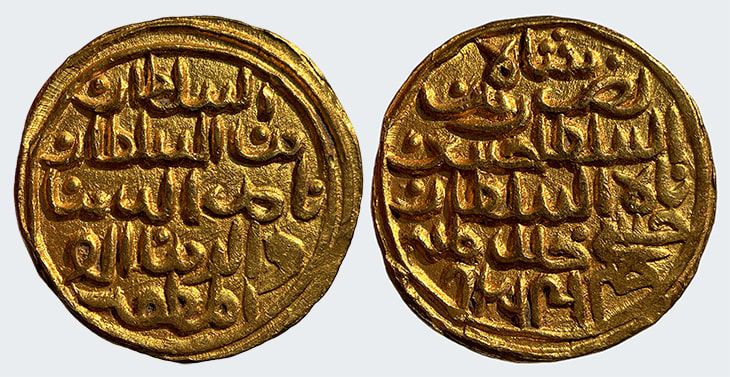 LOT # 290

Estimate 150000 - 200000

Bengal Sultan
Nasir Al-Din Nusrat Shah
Khairabad Mint
Gold Tanka
Unlisted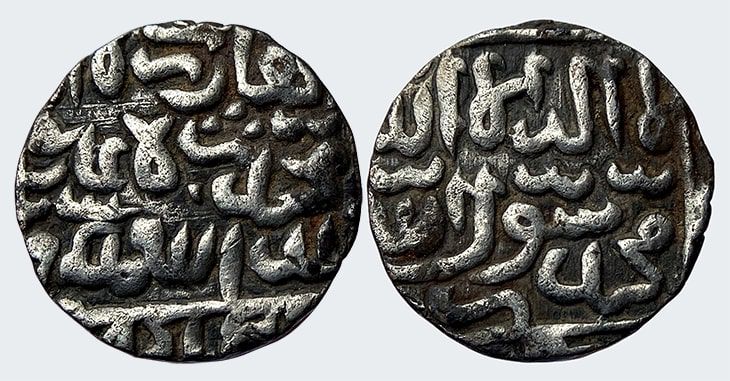 LOT # 339

Estimate 375000 - 500000

Bengal Sultan
Bahadur Shah
Silver 1/4 Rupee
possibly unique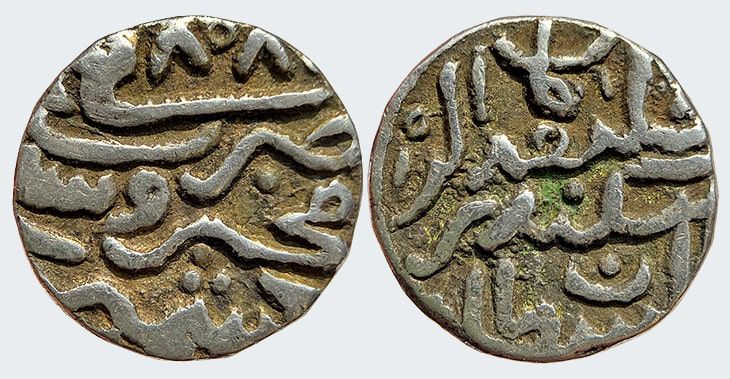 LOT # 343

Estimate 275000 - 300000

Kashmir Sultan,
Sikandar Shah I
Silver 1/2 Tanka
Kashmir Mint
Unlisted & Unpublished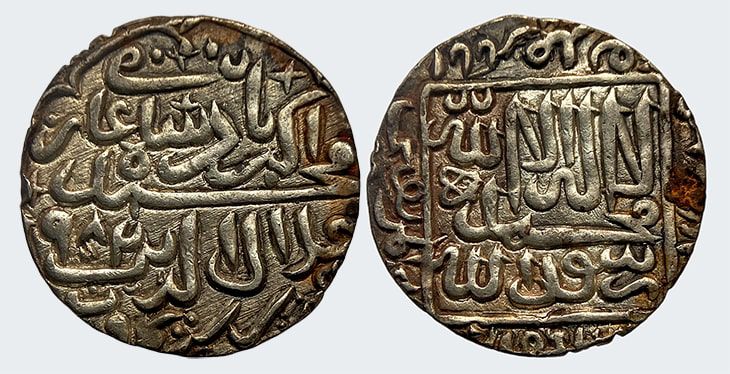 LOT # 348

Estimate 135000 - 150000

Mughal
Akbar
Kalima type
Satgaon Mint
Silver Rupee
25 th Dec 2022 ( Sunday ) 11:30 AM IST (Asia/Calcutta)

Current Auctions
Auction # 16 - Is ready to accept your Bids now!!
Online e-Auction-cum-Floor Auction - Internet Also!


25th Dec 2022 ( Sunday )

starting
11:30 AM IST (Asia/Calcutta)
to 3:00 PM (15:00 PM)

Organized by: Virasat Auctions
Here's How You can Join Us.
Get Verified!

Let us verify your profile, after
which you become a Verified Buyer.

Start Bidding!

Check out our lots and
Start Bidding.
Being In Numismatic Business for almost a Decade, as a dealer, researcher, fellow collector, we bring to you the best Hand Picked Coins, Notes Medals Tokens and Other Numismatic Stuff. We Try to Cater to Our Clients Quality Service and Quality Stuff.
VirasatAuctions.com Consults With experts and moderators from different areas of Numismatics (Ancient, Mughal , Sultanate, East India & British India, Various Princely States) Etc. It Helps Us bring to you the best auction catalogues.