Ancient Kunindas Tribal Republic Amoghabhuti Silver Dramma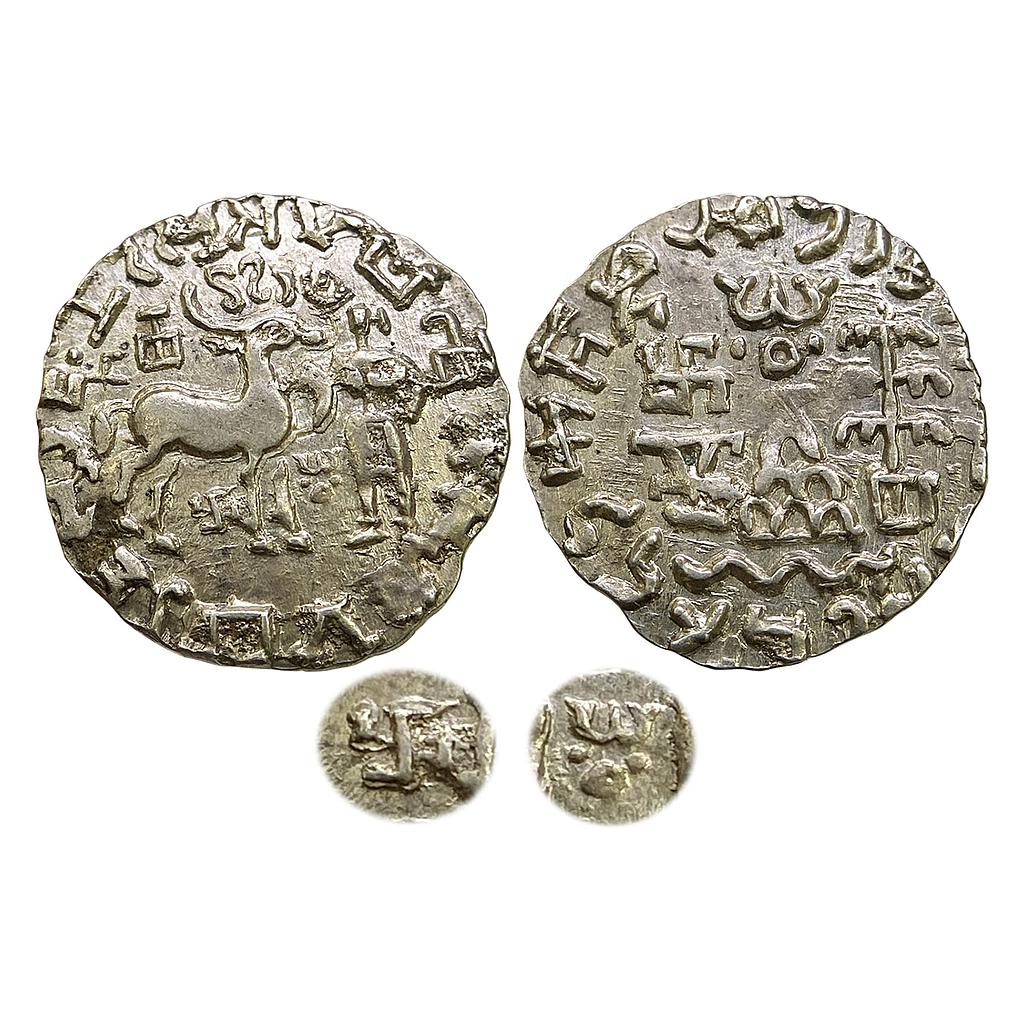 Lot
100
Ancient Kunindas Tribal Republic Amoghabhuti Silver Dramma
---
Estimated Price (INR)

8000

-

10000

Price Realised -

Auction Completed!
Catalog Reference #

Pieper # 1222, pg. 184

Metal Composition

Silver

Lot Grade/Condition

very fine

Diameter

17.87 mm

Weight

2.25 gms

Denomination

Dramma

Calendar/Year

2nd-1st Century BC
Ancient, Kunindas, Tribal Republic, Amoghabhuti (2nd-1st Century BC), Silver Dramma, 2.25 gms, 17.87 mm, Obverse: Deer to right with a fire-altar on its back, Shrivatsa in between the horns, Goddess Lakshmi holding a lotus stalk in front of the deer, a flower below her feet, Brahmi legend around reading 'RajnoKuni(m)dasyaAmoghabhutisyaMaharajasya', a Swastika below deer, a Nandipada between the deer and Lakshmi, Reverse: Six arched hill (Chaitya) at center surmounted by an altar,Nandipada on top, Triangle standard and Swastika in left field, Tree-in-railing in right field, Wavy line (river) below, Kharoshthi legend around 'Rana Kuni(m)dasaAmoghabhutisaMaharajasa' partially seen, however the obverse of the offered specimen has Sanskrit legend (sya ending words) instead of the usual Prakrit legend seen in the reference specimen, Pieper # 1222, pg. 184, very fine, very rare.