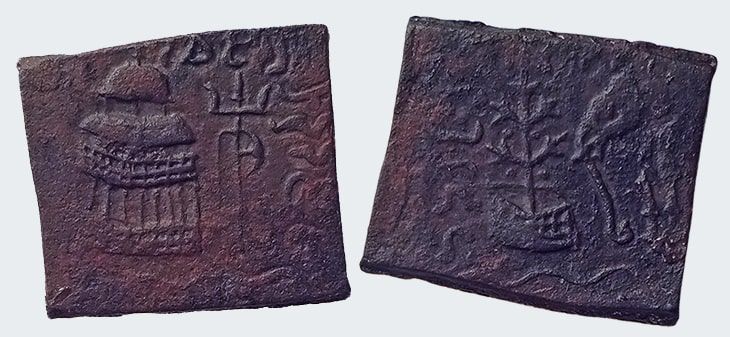 LOT # 91

Estimate 15000 - 20000

Ancient,
Tribal Monarchies,
Audumbaras,
Rudradasa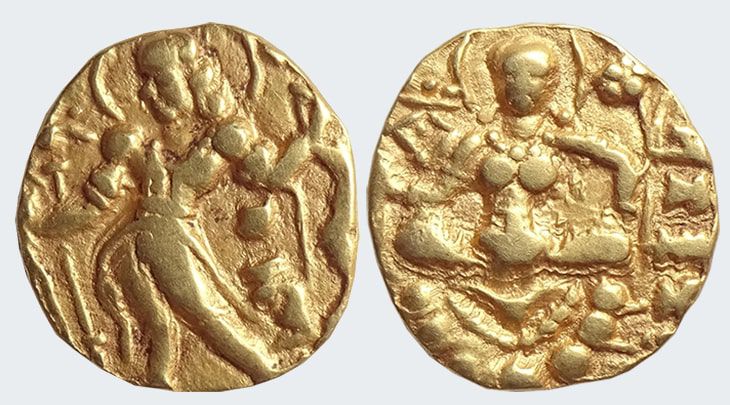 LOT # 126

Estimate 48000 - 50000

Ancient, Guptas,
Chandragupta II,
"Archer type",
Gold Dinar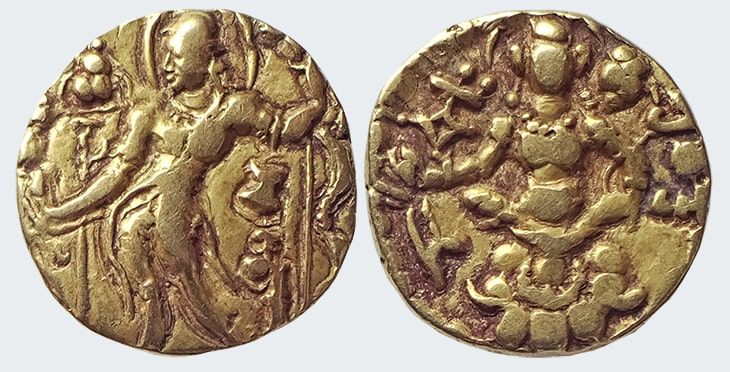 LOT # 127

Estimate 48000 - 50000

Ancient, Guptas,
Chandragupta II,
"Archer type",
Gold Dinar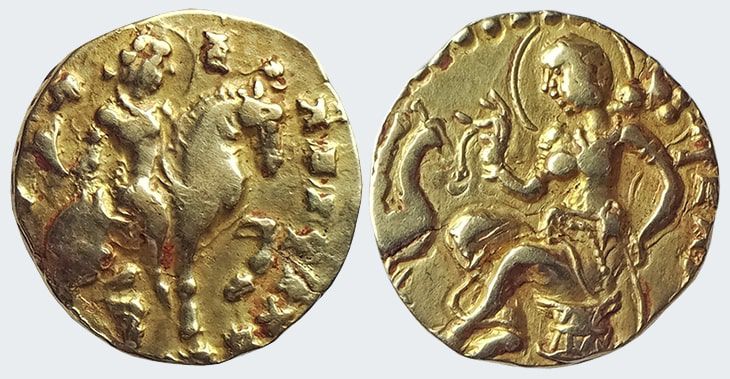 LOT # 129

Estimate 125000 - 130000

Ancient, Guptas,
Kumaragupta I,
"Horseman" type,
Gold Dinar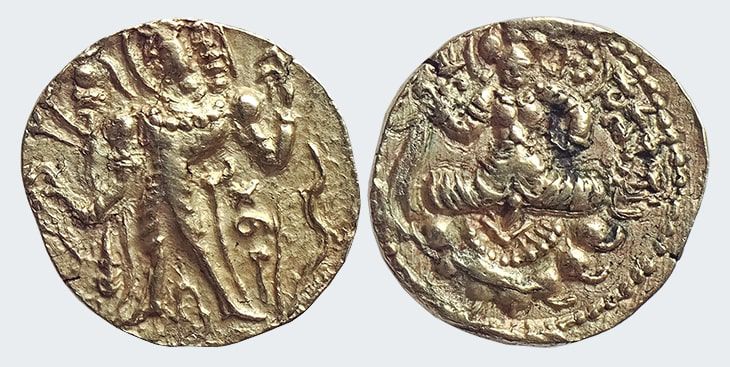 LOT # 135

Estimate 75000 - 80000

Ancient, Guptas,
Narsimhagupta,
"Archer" type,
Gold Heavy Dinar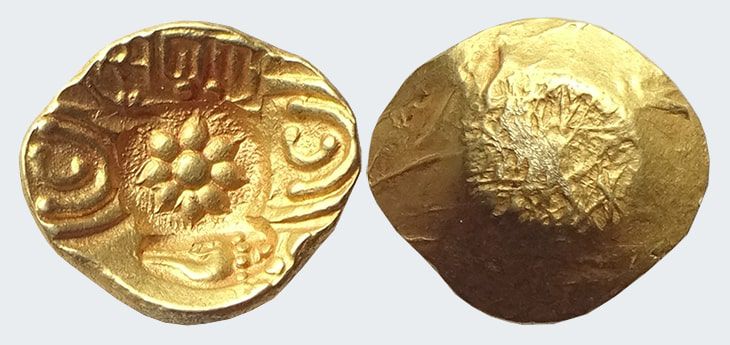 LOT # 164

Estimate 18000 - 20000

Medieval India
Yadavas of Devagiri,
Singhanadeva,
Gold Padmatanka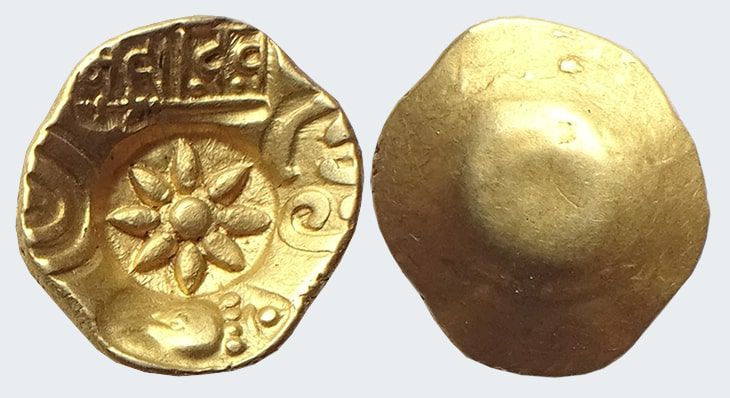 LOT # 165

Estimate 20000 - 22000

Medieval India
Yadavas of Devagiri,
Mahadeva,
Gold Padmatanka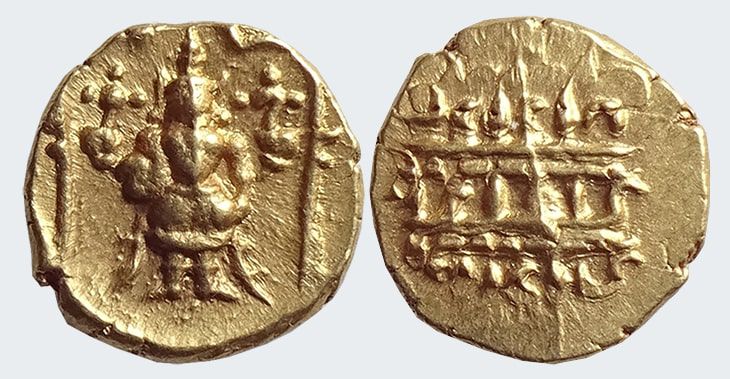 LOT # 169

Estimate 12000 - 15000

Medieval India
Vijayanagar Empire,
Venkitapati Raya III,
Gold Half Varaha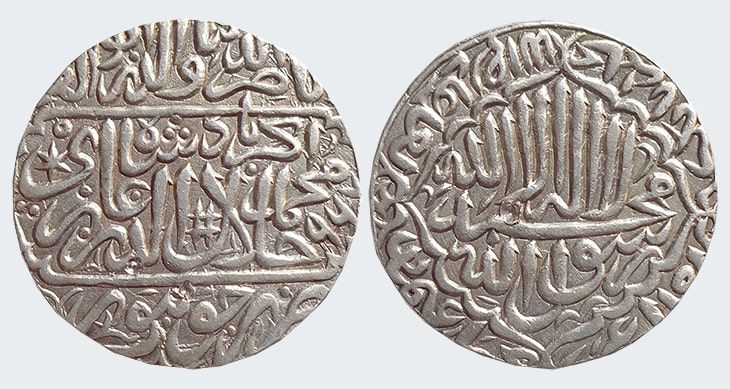 LOT # 277

Estimate 8000 - 10000

Mughal, Akbar,
Jaunpur Mint,
Kalima type,
Silver Rupee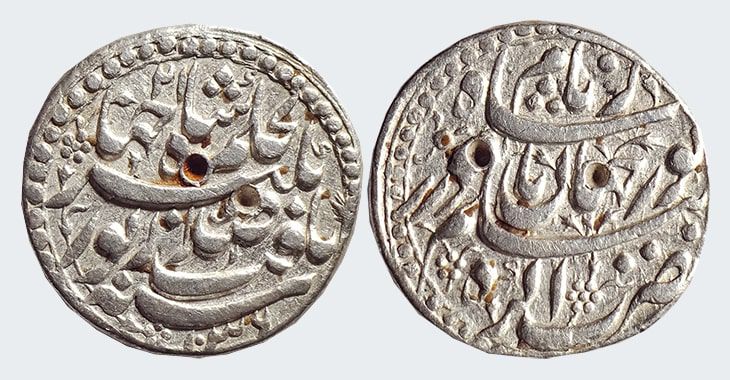 LOT # 293

Estimate 25000 - 30000

Mughal, Nur Jahan,
Agra Mint,
"Yaft" couplet,
Silver Rupee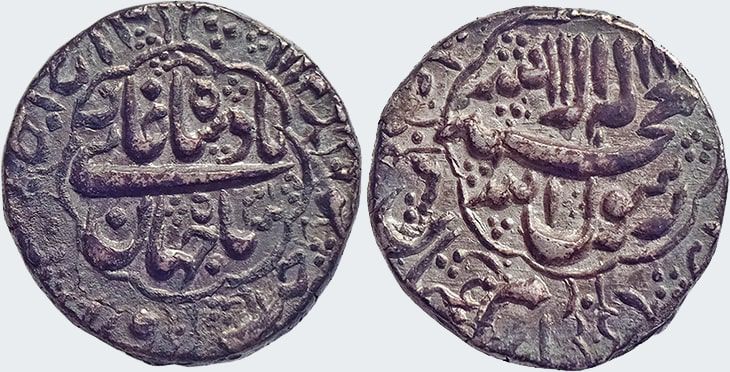 LOT # 313

Estimate 10000 - 12000

Mughal, Shah Jahan,
Ahmedabad Mint,
Cinquefoil border
Silver Rupee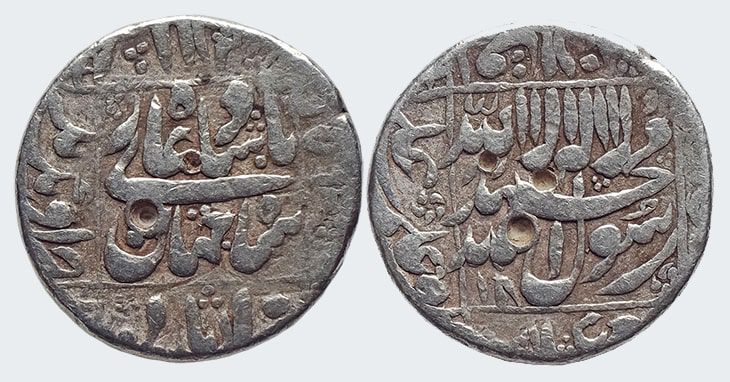 LOT # 320

Estimate 30000 - 35000

Mughal, Shah Jahan,
Aurangnagar Mint,
Silver Rupee
Very Rare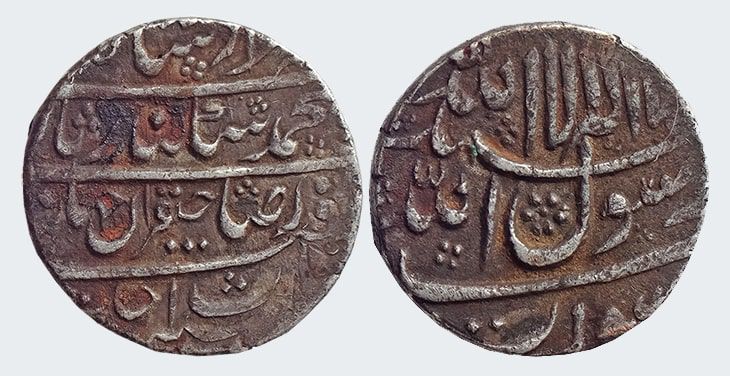 LOT # 335

Estimate 20000 - 25000

Mughal, Murad Bakhsh,
Surat Mint,
'Arsh couplet',
Silver Rupee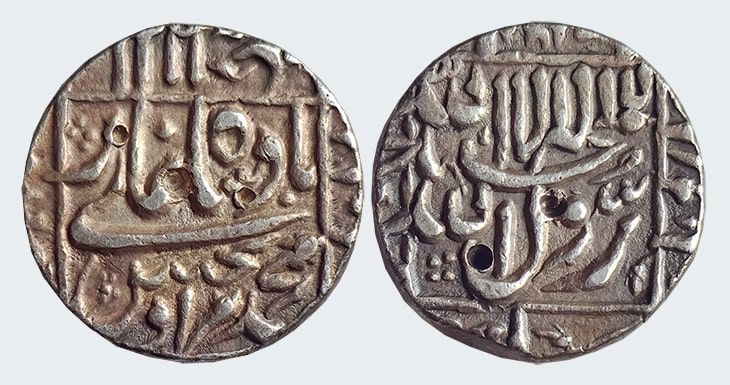 LOT # 337

Estimate 18000 - 20000

Mughal, Murad Bakhsh,
Surat Mint,
Silver 1/2 Rupee
Error Date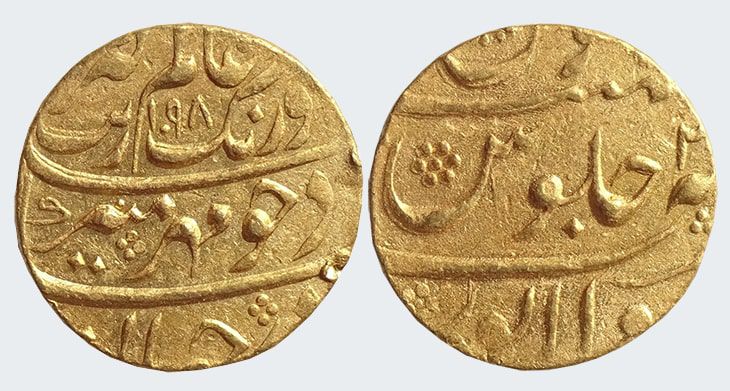 LOT # 354

Estimate 55000 - 60000

Mughal, Aurangzeb,
Sholapur Mint,
Gold Mohur
unlisted Date RY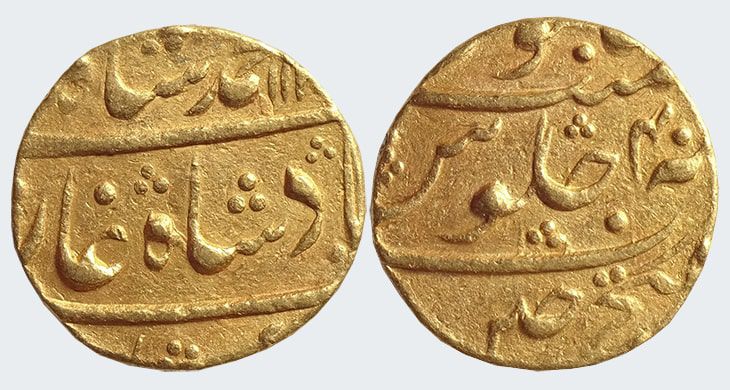 LOT # 390

Estimate 75000 - 80000

Mughal, Muhammad Shah,
Dar-ul-Fath Ujjain Mint,
at the bottom
Gold Mohur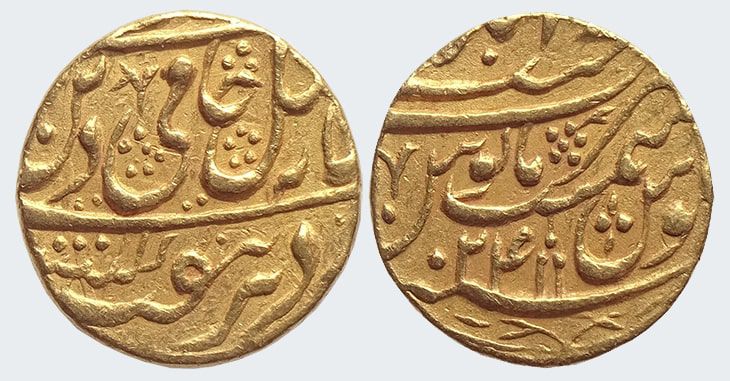 LOT # 438

Estimate 55000 - 60000

IK, Rohilkhand,
INO Shah Alam II,
Najibabad Mint,
Gold Mohur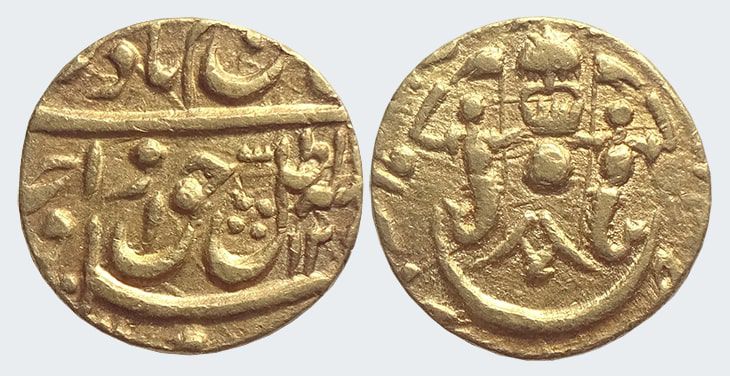 LOT # 455

Estimate 95000 - 105000

IPS, Awadh State,
Wajid Ali Shah,
Mulk Awadh Lakhnau Mint,
Gold 1/2 Asharfi"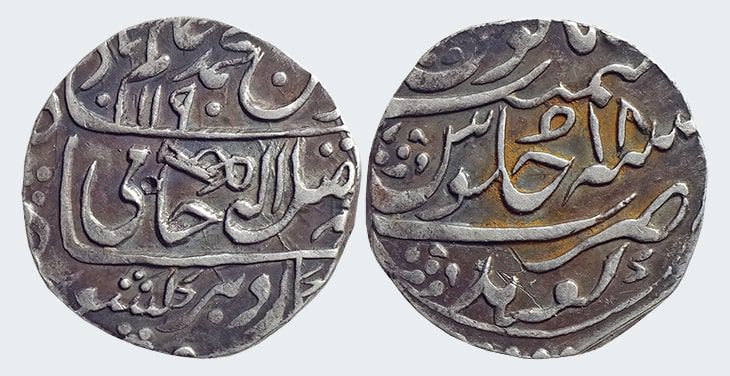 LOT # 464

Estimate 6000 - 8000

IPS, Dholpur State,
Chhatrapat Singh
INO Shah Alam II,
Gohad Mint, Silver Rupee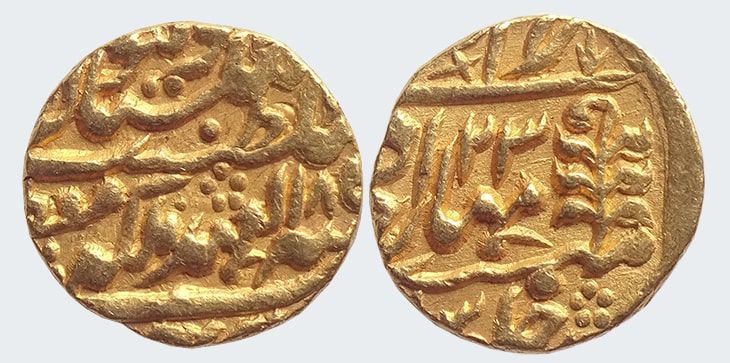 LOT # 470

Estimate 54000 - 56000

IPS, Jaipur State,
Ram Singh with Victoria,
Sawai Jaipur Mint,
Gold Mohur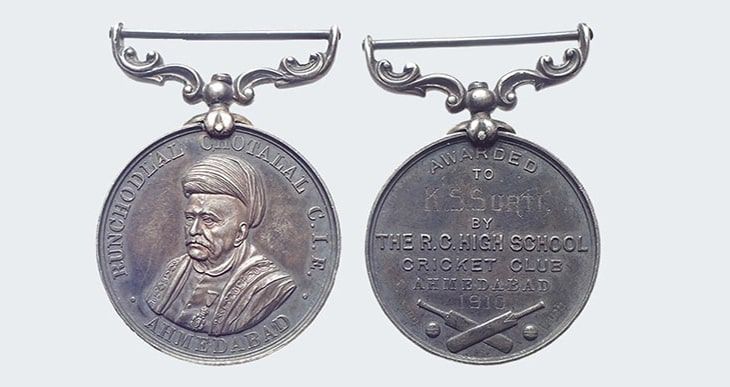 LOT # 515

Estimate 12000 - 15000

Runchodlal Chotalal
R. C. High School
Cricket Club Ahmedabad,
Silver Medal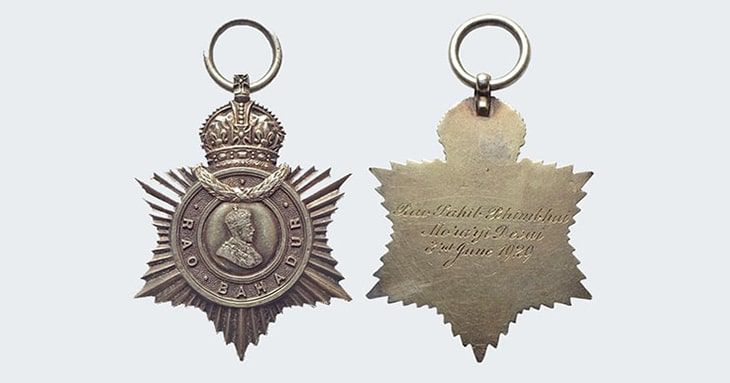 LOT # 519

Estimate 25000 - 30000

Indian Title Badge,
George V,
Rao Bahadur,
Silver Badge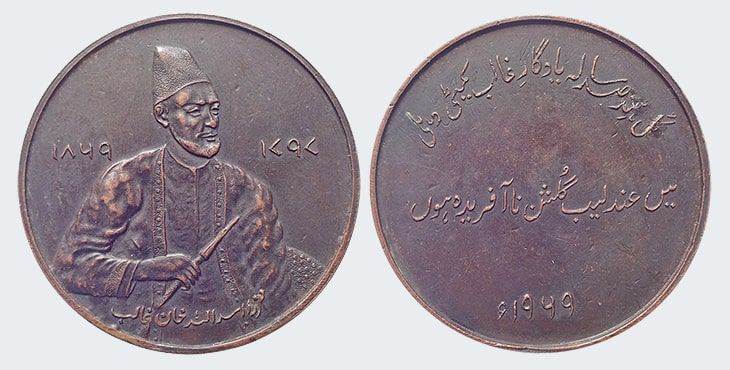 LOT # 521

Estimate 3500 - 4000

Mirza Asadullah Baig Khan
Urf (alias)
Mirza Ghalib,
Copper Medal
11th July 2021 ( Sunday) 16:00 pm (4:00 PM) IST (Asia/Calcutta)

Current Auction
Auction is ready to accept your Bids Now!!
Online e-Auction - Internet Only!!
11th July 2021 ( Sunday)

starting
16:00 Pm (4:00 PM) IST (Asia/Calcutta)
to 21:00 Pm (9 :00 PM) 11th July 2021

Organized by: Virasat Auctions
Here's How You can Join Us.
Get Verified!

Let us verify your profile, after
which you become a Verified Buyer.

Start Bidding!

Check out our lots and
Start Bidding.
Being In Numismatic Business for almost a Decade, as a dealer, researcher, fellow collector, we bring to you the best Hand Picked Coins, Notes Medals Tokens and Other Numismatic Stuff. We Try to Cater to Our Clients Quality Service and Quality Stuff.
VirasatAuctions.com Consults With experts and moderators from different areas of Numismatics (Ancient, Mughal , Sultanate, East India & British India, Various Princely States) Etc. It Helps Us bring to you the best auction catalogues.