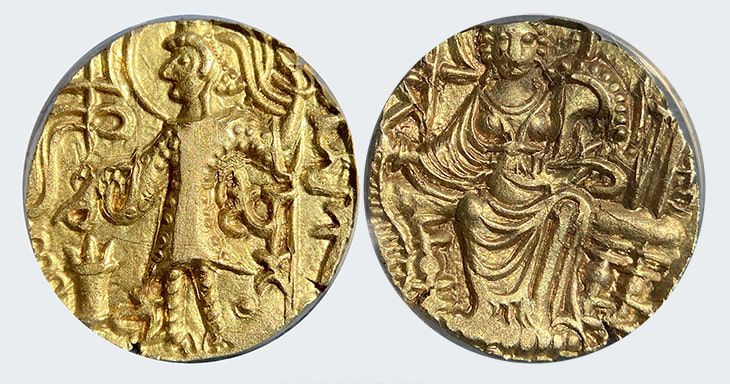 LOT # 93

Estimate 60000 - 80000

Ancient
Later or Post Kushanas
Vasudeva II
Gold Dinara
Graded By ANACS as AU 55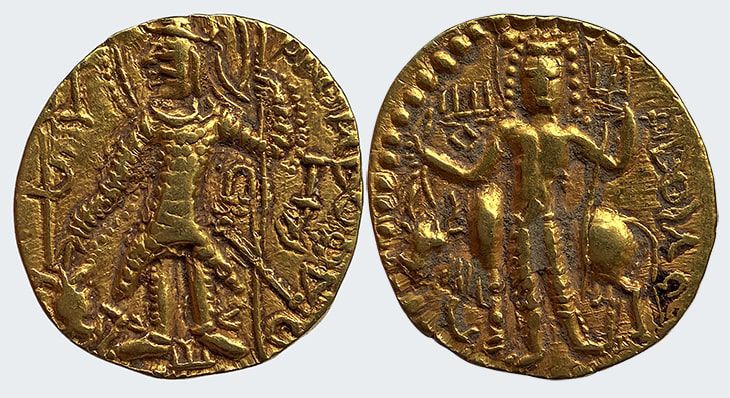 LOT # 94

Estimate 80000 - 90000

Ancient
Kushanas
Vasudeva II
Gold Dinara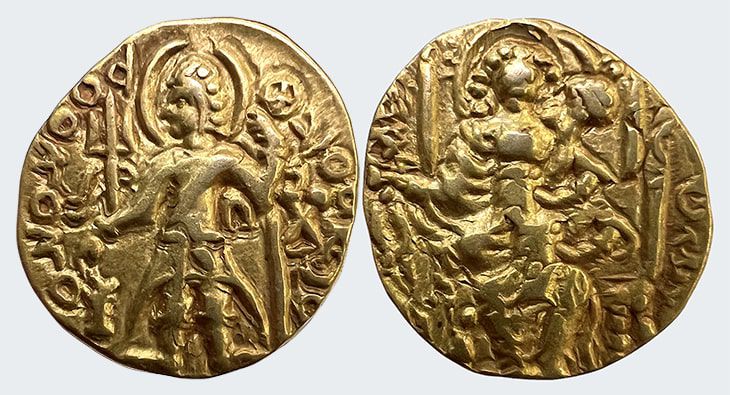 LOT # 96

Estimate 80000 - 90000

Ancient
Later or Post Kushanas
The rebel Magra (or Mishra)
Gold Dinara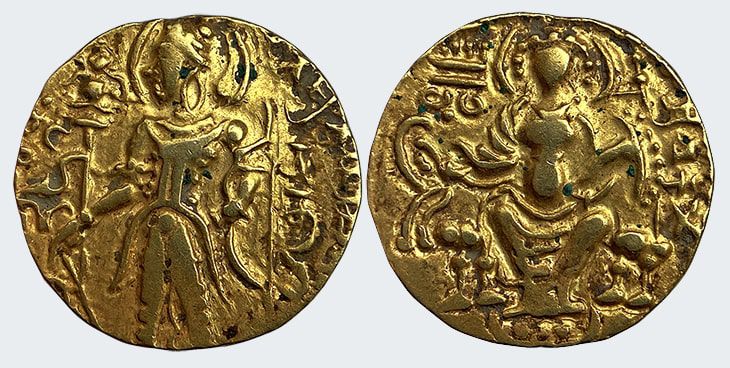 LOT # 122

Estimate 110000 - 120000

Ancient Guptas
Chandragupta I
Reverse Archer type
Gold Dinara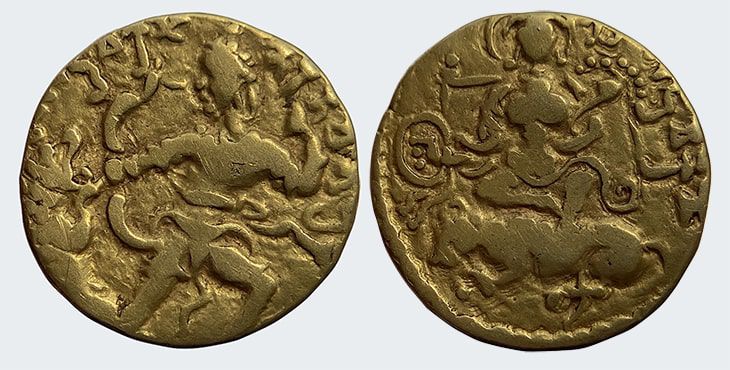 LOT # 123

Estimate 300000 - 325000

Ancient Guptas
Chandragupta I or II
Lion Slayer Type
Gold Dinara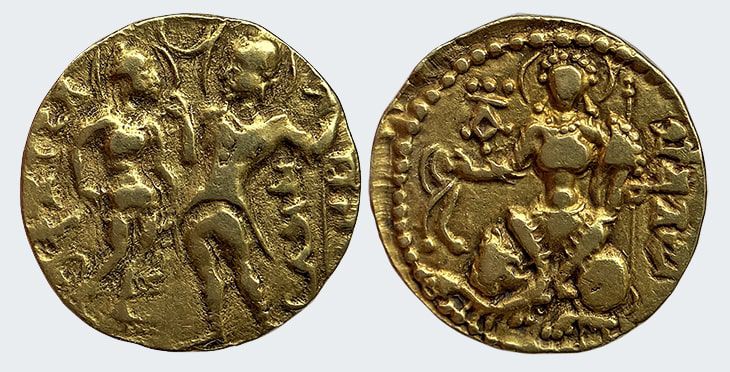 LOT # 124

Estimate 225000 - 230000

Ancient Guptas
Chandragupta I
King and Queen type
Gold Dinara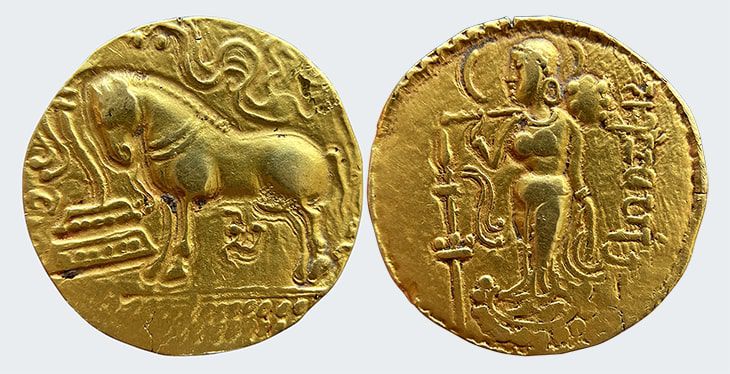 LOT # 125

Estimate 230000 - 250000

Ancient Guptas
Samudragupta
Ashvamedha type
Gold Dinara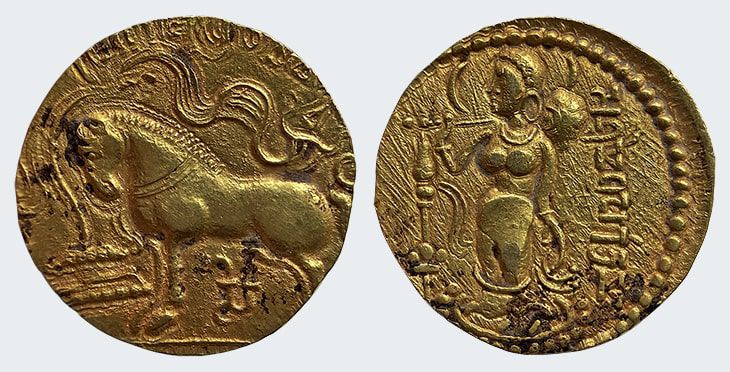 LOT # 126

Estimate 600000 - 800000

Ancient Guptas
Samudragupta
Ashvamedha type
Gold Dinara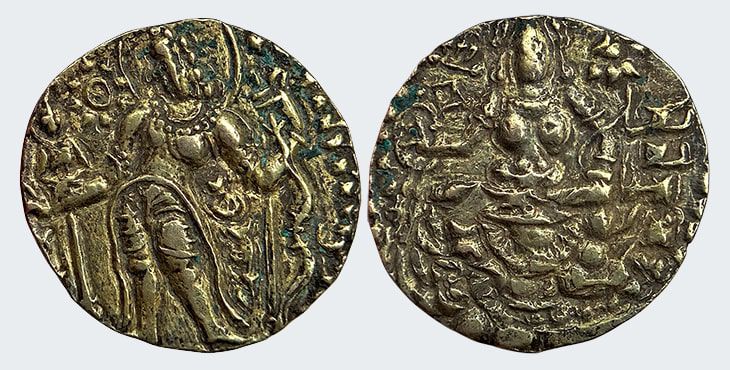 LOT # 129

Estimate 140000 - 160000

Ancient Guptas
Chandragupta II
Archer type
Gold Dinara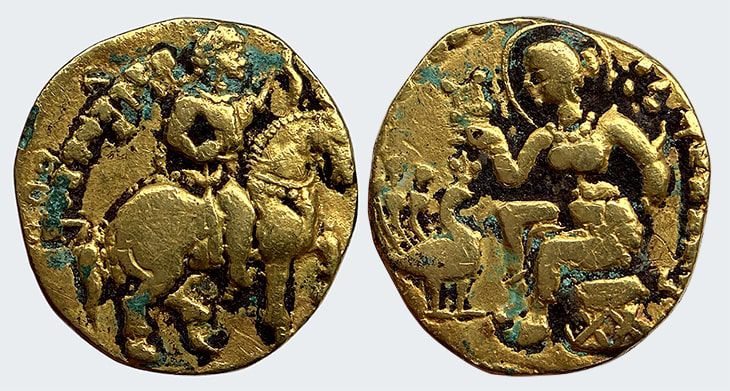 LOT # 131

Estimate 175000 - 200000

Ancient Guptas
Kumaragupta I
Horseman type
Gold Dinar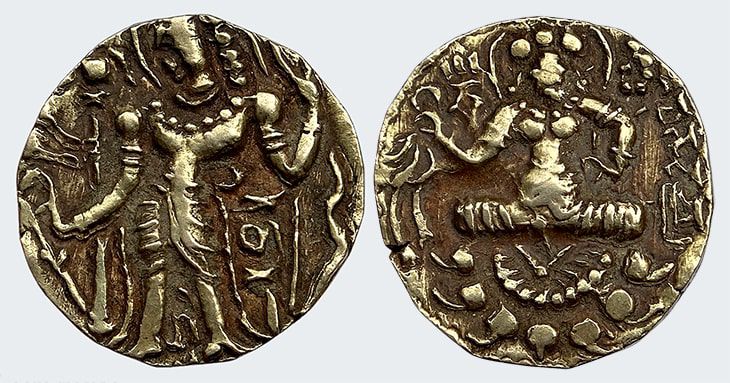 LOT # 137

Estimate 150000 - 170000

Ancient Guptas
Narasimhagupta I
Archer type
Gold Dinara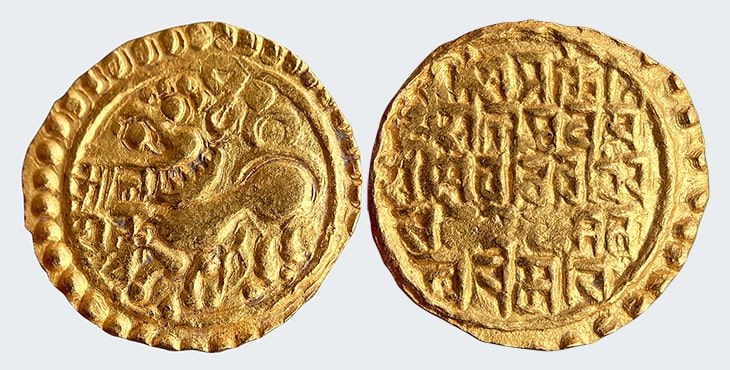 LOT # 182

Estimate 55000 - 60000

Hindu Medieval
Kadambas of Goa
Shivachitta Vajradeva
cyclic year Kalayukta
Gold Gadyana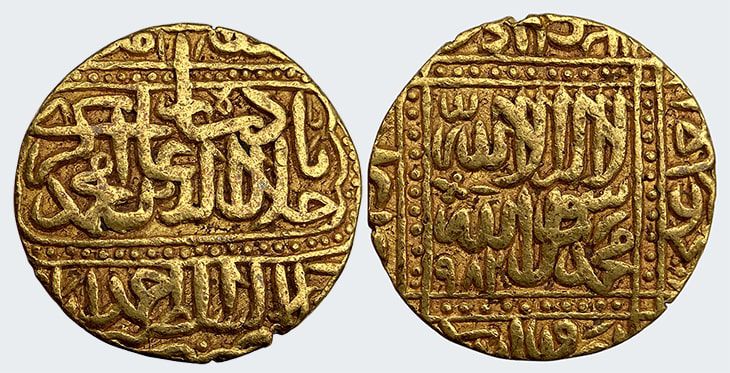 LOT # 317

Estimate 120000 - 125000

Mughal
Akbar
Ahmedabad Mint
Gold Mohur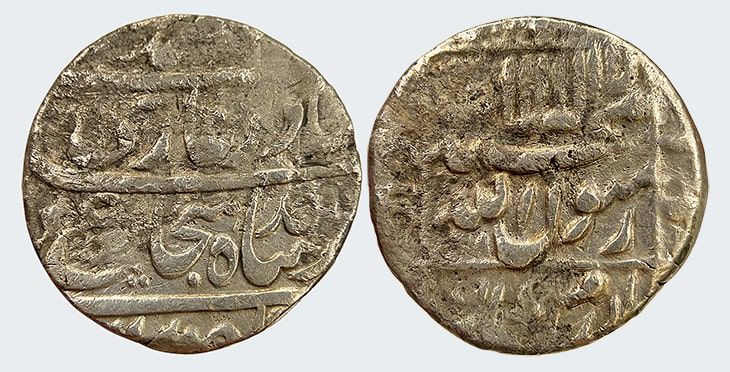 LOT # 367

Estimate 225000 - 250000

Mughal
Shah Shuja
Akbarnagar Mint
Silver Rupee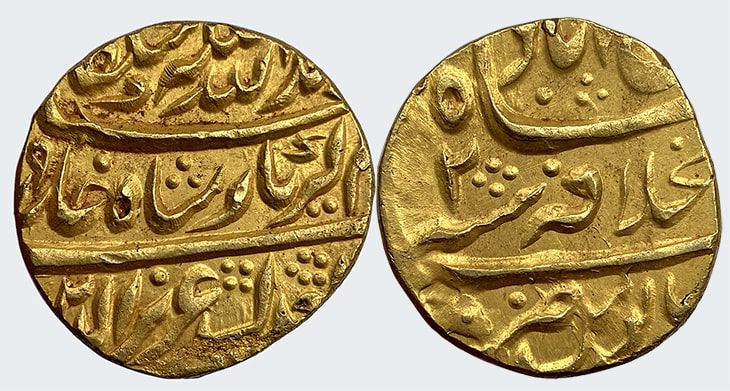 LOT # 465

Estimate 90000 - 100000

Mughal
Alamgir II
Shahjahanabad Mint
Gold Mohur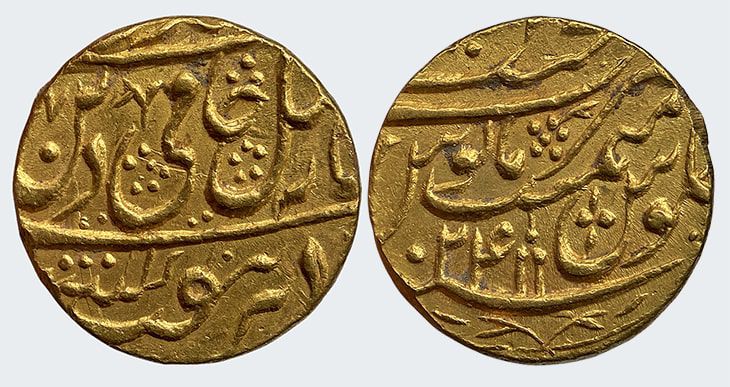 LOT # 492

Estimate 70000 - 75000

IK Rohilkhand
INO Shah Alam II
Najibabad Mint
Gold Mohur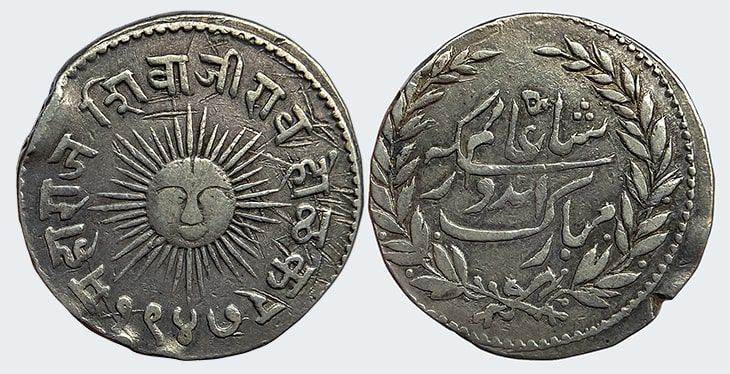 LOT # 554

Estimate 50000 - 60000

IPS Indore State
Shivaji Rao Holkar
INO Shah Alam II
Silver Nazarana Rupee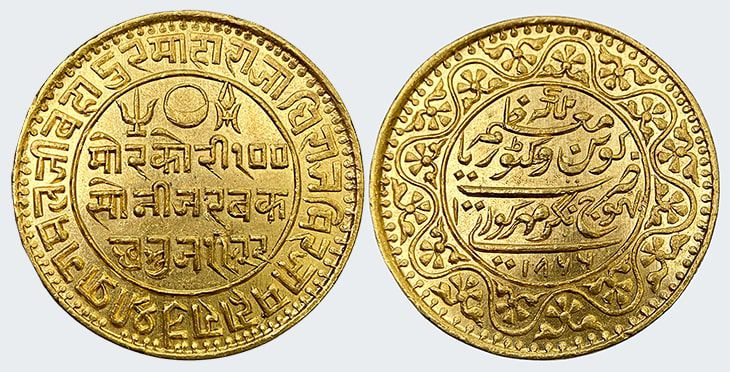 LOT # 567

Estimate 115000 - 125000

IPS Kutch State
Pragmalji II & Queen Victoria
Bhujnagar Mint
Gold 100 Kori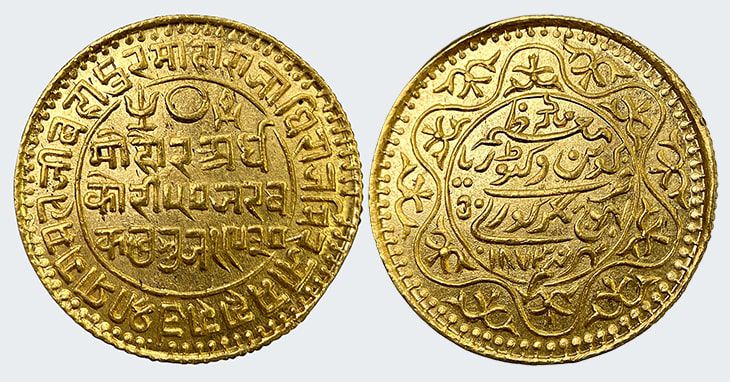 LOT # 568

Estimate 85000 - 90000

IPS Kutch State
Pragmalji II & Queen Victoria
Bhujnagar Mint
Gold 50 Kori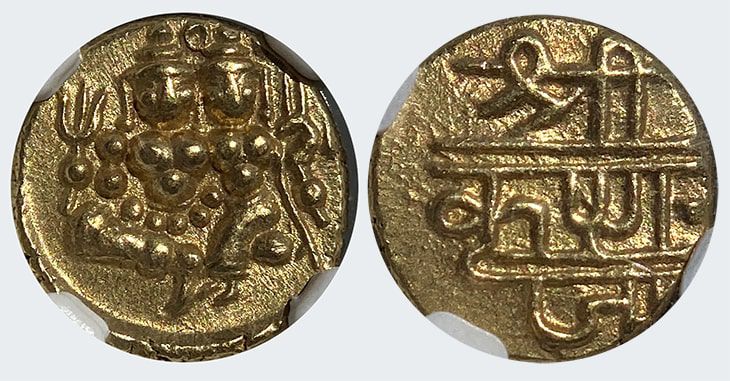 LOT # 577

Estimate 25000 - 28000

IPS Mysore
Krishna Raja Wodeyar
Gold Pagoda
NGC Graded MS 64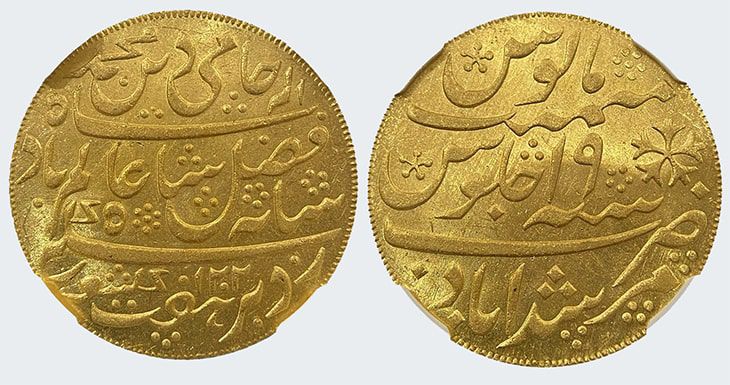 LOT # 599

Estimate 90000 - 100000

EIC Bengal Presidency
INO Shah Alam II
Murshidabad Gold Mohur
NGC Graded MS 64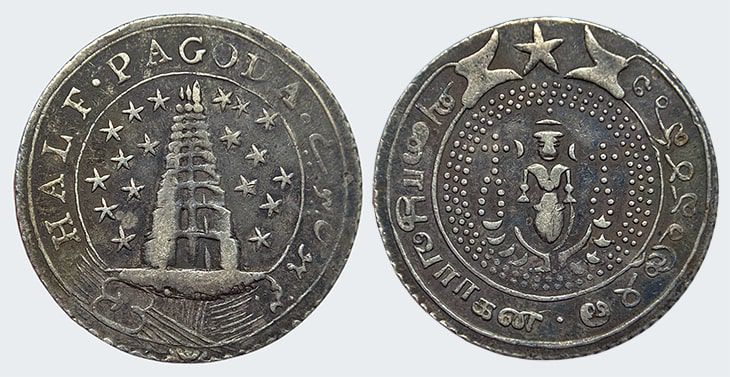 LOT # 603

Estimate 50000 - 60000

EIC Madras Presidency
2nd issue
1808 AD series
Silver 1/2 Pagoda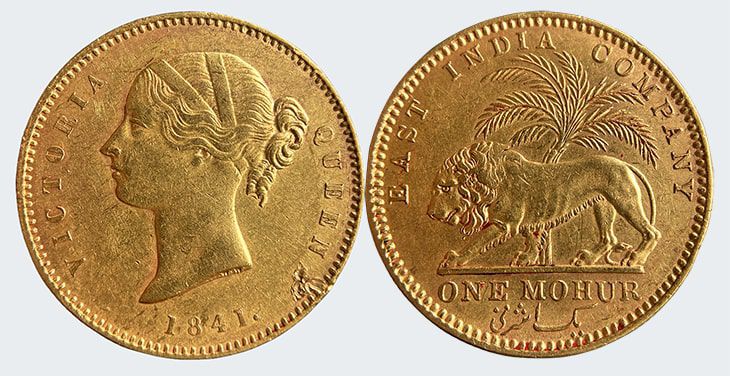 LOT # 615

Estimate 180000 - 200000

EIC Victoria Queen
1841 AD
WW incused
Gold Mohur

28 th Aug 2022 ( Sunday ) 11:30 AM IST (Asia/Calcutta)

Current Auctions
Auction # 14 - Is ready to accept your Bids now!!
Online e-Auction - Internet Also!


28th Aug 2022 ( Sunday )

starting
11:30 AM IST (Asia/Calcutta)
to 3:30 PM (15:30 PM)

Organized by: Virasat Auctions
Here's How You can Join Us.
Get Verified!

Let us verify your profile, after
which you become a Verified Buyer.

Start Bidding!

Check out our lots and
Start Bidding.
Being In Numismatic Business for almost a Decade, as a dealer, researcher, fellow collector, we bring to you the best Hand Picked Coins, Notes Medals Tokens and Other Numismatic Stuff. We Try to Cater to Our Clients Quality Service and Quality Stuff.
VirasatAuctions.com Consults With experts and moderators from different areas of Numismatics (Ancient, Mughal , Sultanate, East India & British India, Various Princely States) Etc. It Helps Us bring to you the best auction catalogues.