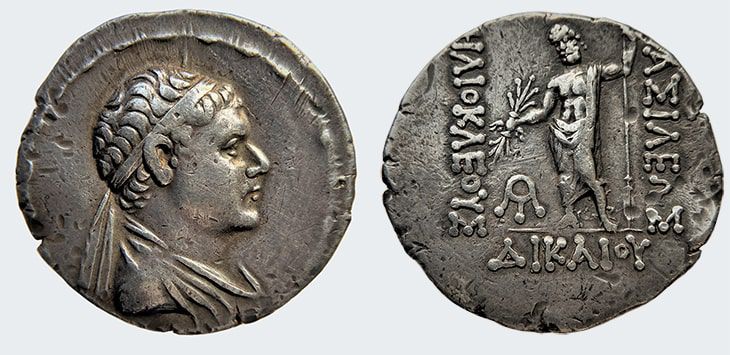 LOT # 69

Estimate 55000 - 60000

Ancient,
Greco-Bactrian,
Heliocles I,
Silver Tetradrachm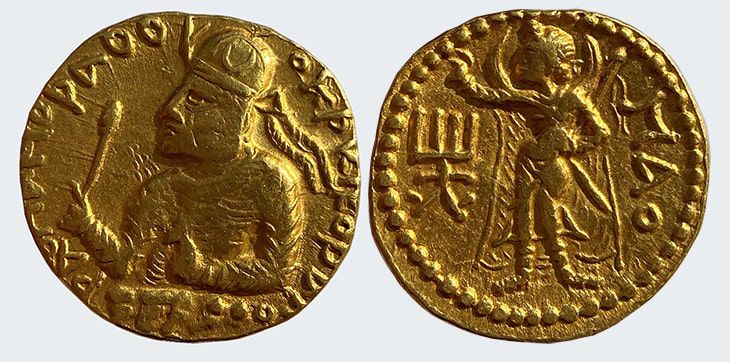 LOT # 118

Estimate 105000 - 110000

Ancient,
Kushanas,
Huvishka,
Gold Dinara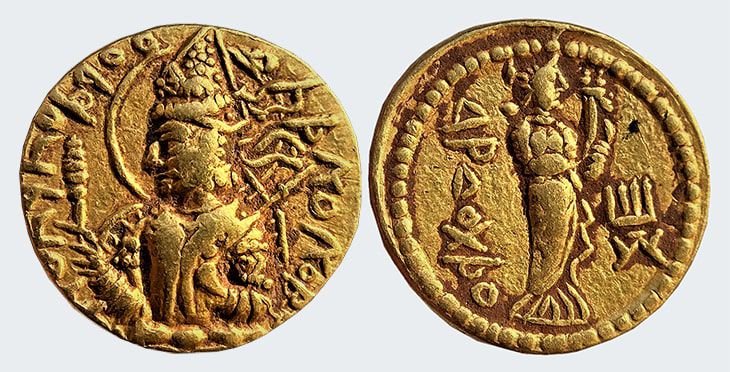 LOT # 119

Estimate 75000 - 80000

Ancient,
Kushanas,
Huvishka,
Gold Dinara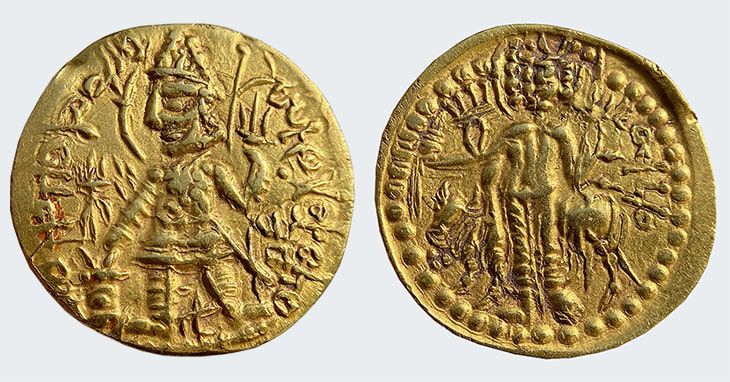 LOT # 120

Estimate 80000 - 90000

Ancient,
Kushanas,
Vasudeva I,
Gold Dinara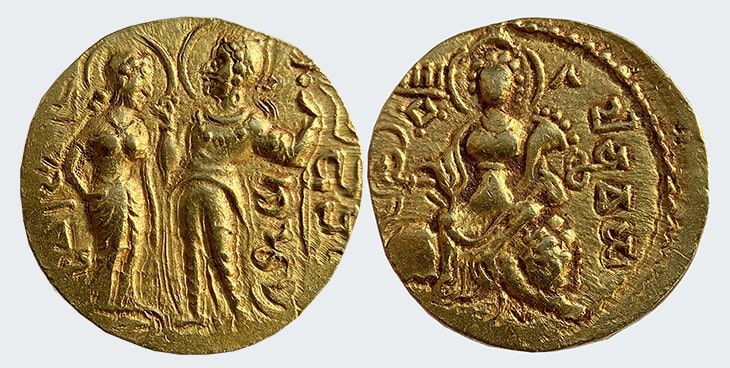 LOT # 149

Estimate 400000 - 600000

Ancient Guptas,
Chandragupta I/II,
King and Queen type,
Gold Dinara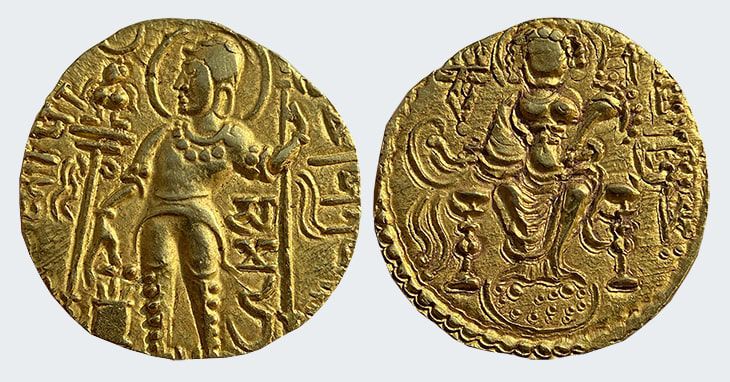 LOT # 151

Estimate 75000 - 80000

Ancient Guptas,
Samudragupta,
Javelin type,
Gold Dinara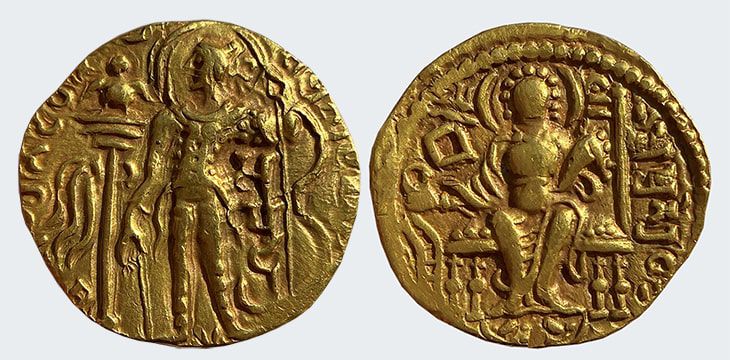 LOT # 153

Estimate 150000 - 180000

Ancient Guptas,
Samudragupta,
Archer type,
Gold Dinara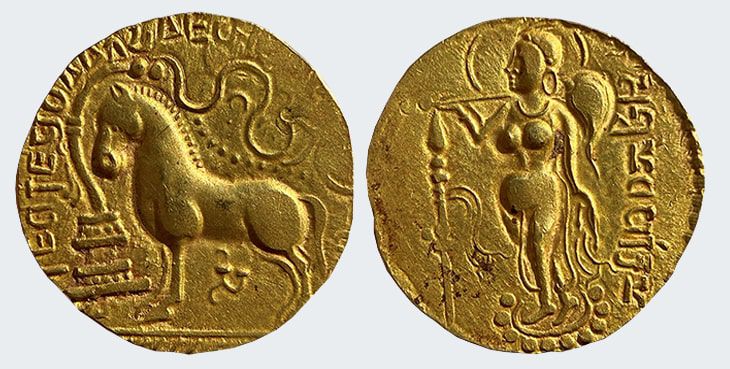 LOT # 154

Estimate 525000 - 550000

Ancient Guptas,
Samudragupta,
Ashvamedha type,
Gold Dinara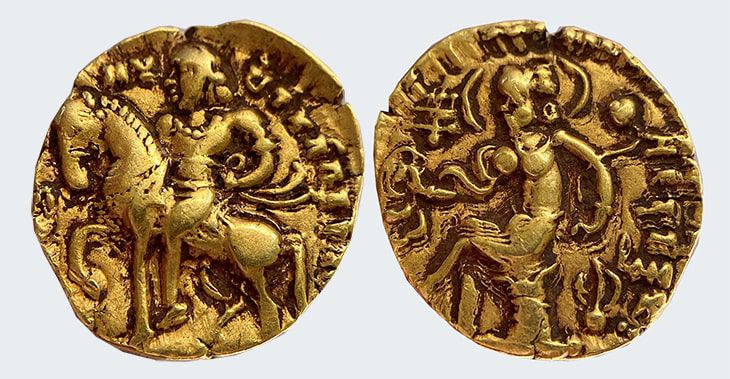 LOT # 158

Estimate 150000 - 180000

Ancient Guptas,
Chandragupta II,
Horseman Type,
Gold Dinara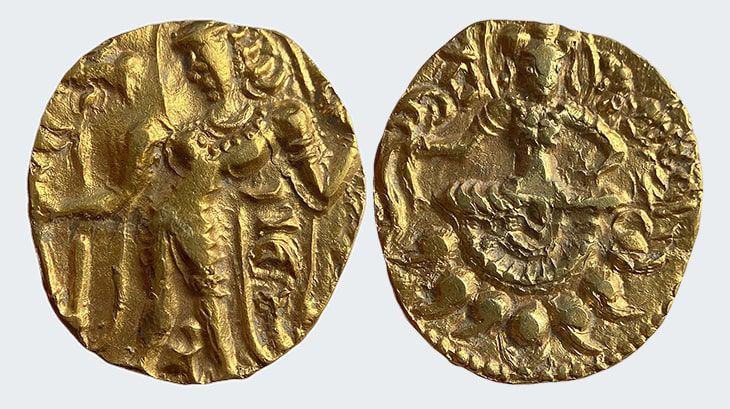 LOT # 164

Estimate 130000 - 150000

Ancient Guptas,
Narasimhagupta,
Archer Type,
Gold Dinara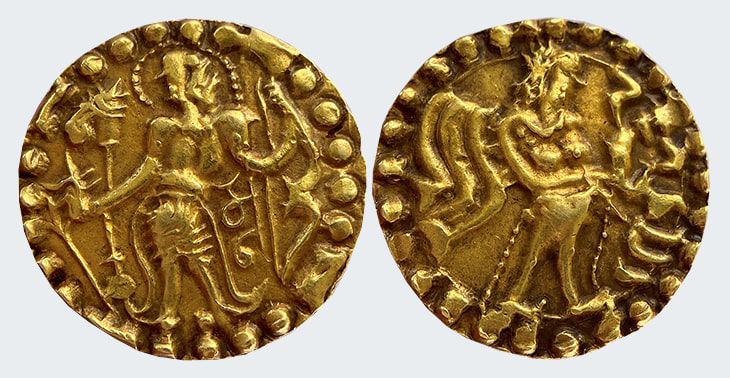 LOT # 169

Estimate 60000 - 70000

Ancient Post-Gupta,
East Bengal,
Samatata Region,
Gold Dinara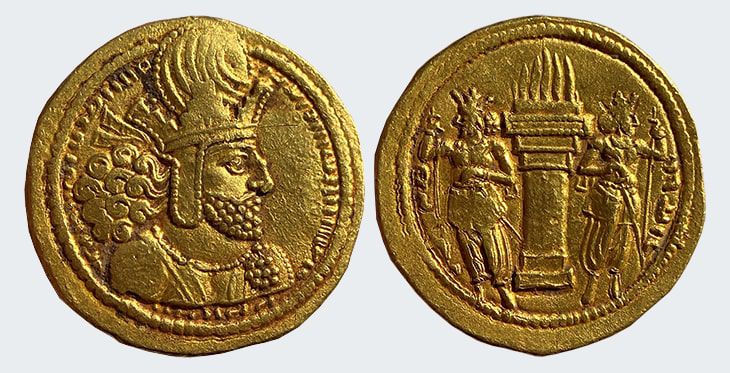 LOT # 188

Estimate 280000 - 300000

Ancient World,
Sassanian Empire,
Shapur I,
Gold Dinara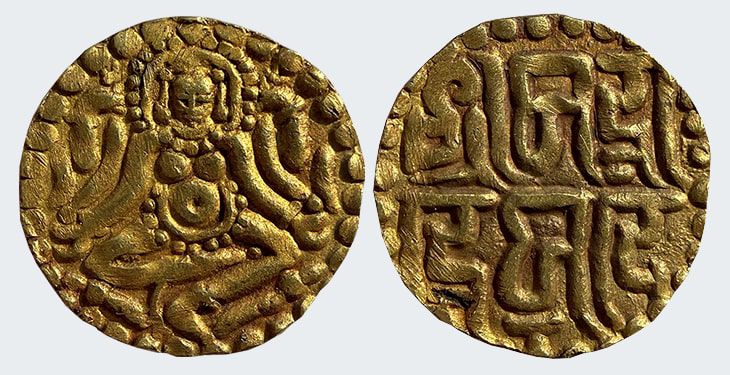 LOT # 203

Estimate 22000 - 25000

Hindu Coins - Medieval India,
Kalachuris of Tripuri,
Gangeya Deva
Gold 4-1/2 Masha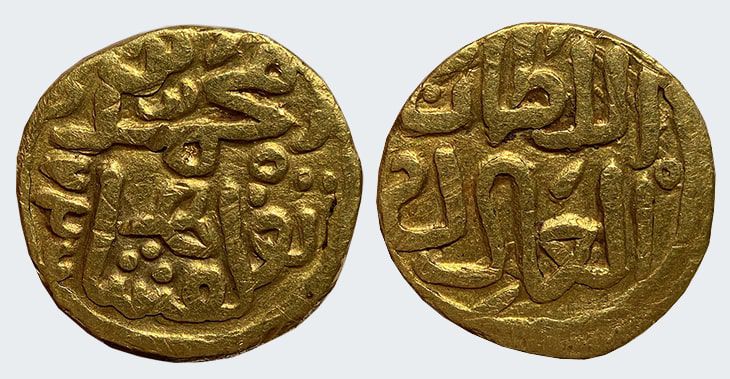 LOT # 277

Estimate 300000 - 500000

Sultanates,
Delhi Sultan,
Muhammad bin Tughluq,
Gold 1/2 Tanka (Dinar)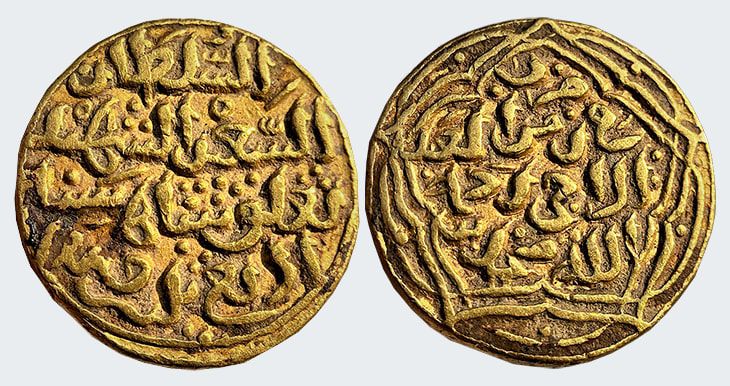 LOT # 280

Estimate 60000 - 65000

Sultanates,
Delhi Sultan,
Muhammad Bin Tughluq,
Gold Dinar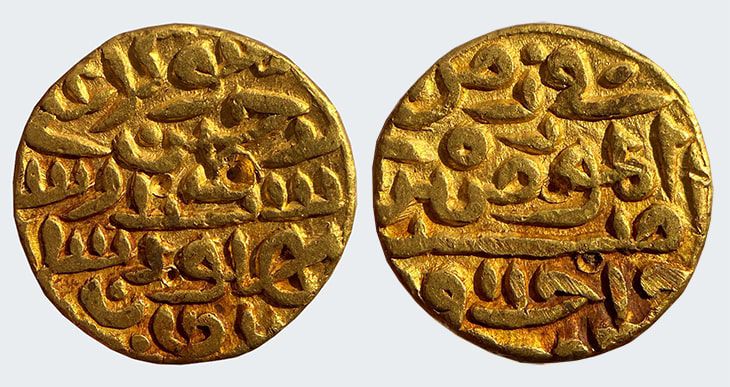 LOT # 291

Estimate 800000 - 1000000

Sultanates,
Delhi Sultan,
Sikandar Shah Lodi,
Gold Tanka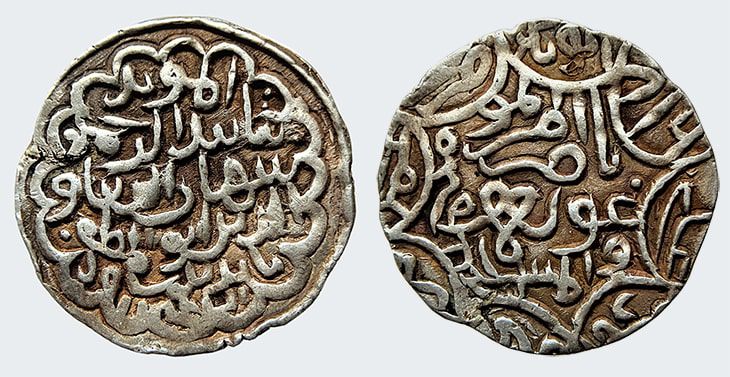 LOT # 324

Estimate 12000 - 15000

Sultanates,
Bengal Sultan,
Shahab Al-Din Bayazid Shah,
Silver Tanka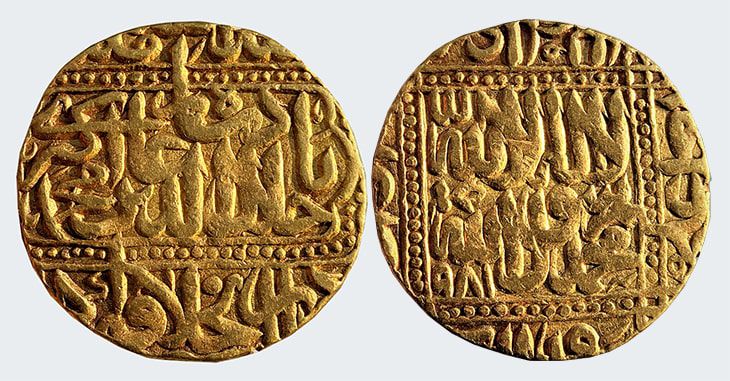 LOT # 366

Estimate 75000 - 80000

Mughal,
Akbar,
Agra Mint,
Gold Mohur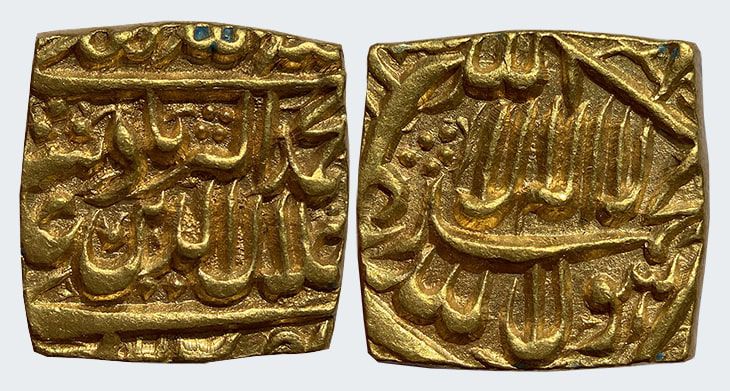 LOT # 381

Estimate 450000 - 500000

Mughal,
Akbar,
Bang Mint,
Gold Square Mohur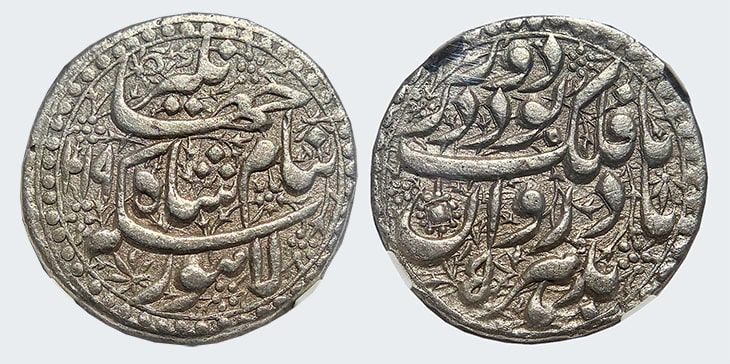 LOT # 440

Estimate 40000 - 50000

Mughal,
Jahangir,
Lahore Mint,
Sawai Heavy Rupee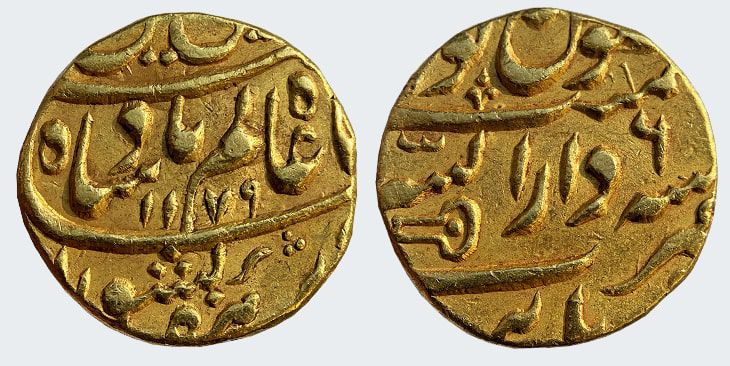 LOT # 585

Estimate 500000 - 600000

Maratha Confederacy,
INO Shah Alam II,
Burhanpur Mint,
Gold Mohur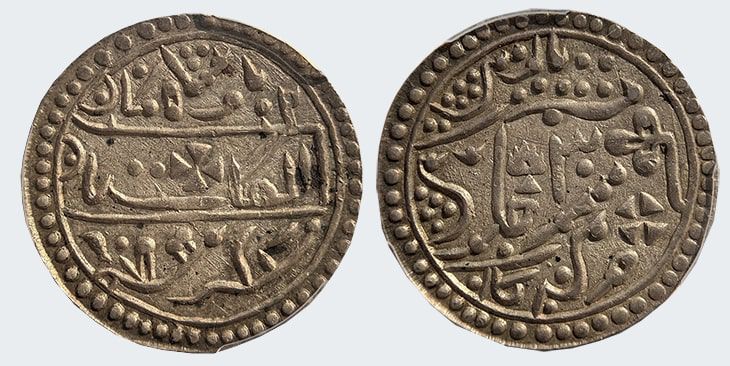 LOT # 738

Estimate 60000 - 65000

Princely State,
Kotah State,
Chattar Singh,
Silver Nazarana Rupee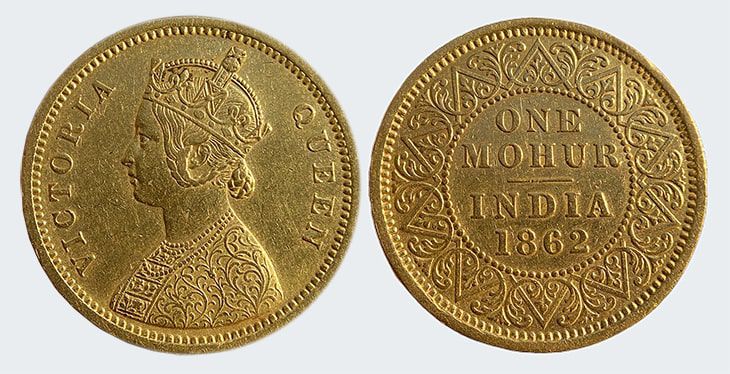 LOT # 782

Estimate 120000 - 130000

British India,
Victoria Queen,
1862 AD,
Gold Mohur
3 rd Apr 2022 ( Sunday) 11:00 AM IST (Asia/Calcutta)

Current Auction
Auction # 11 - Is ready to accept your Bids now!!
Online e-Auction - Internet Also!


3rd Apr 2022 ( Sunday )

starting
11:00 AM IST (Asia/Calcutta)
to 8:00 PM (20:00 PM) 3rd Apr 2022

Organized by: Virasat Auctions
Here's How You can Join Us.
Get Verified!

Let us verify your profile, after
which you become a Verified Buyer.

Start Bidding!

Check out our lots and
Start Bidding.
Being In Numismatic Business for almost a Decade, as a dealer, researcher, fellow collector, we bring to you the best Hand Picked Coins, Notes Medals Tokens and Other Numismatic Stuff. We Try to Cater to Our Clients Quality Service and Quality Stuff.
VirasatAuctions.com Consults With experts and moderators from different areas of Numismatics (Ancient, Mughal , Sultanate, East India & British India, Various Princely States) Etc. It Helps Us bring to you the best auction catalogues.